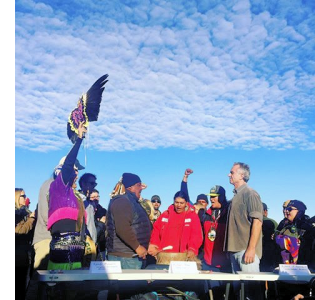 Kandi Mossett, [email protected], (701) 214-1389
Jade Begay, [email protected], (505) 699-4791
Cannon Ball, ND- On November 15th Robert Kennedy Jr. (Waterkeeper Alliance), Michael Brune (Sierra Club), Kandi Mossett (Indigenous Environmental Network), and Joye Braun (Indigenous Environmental Network) spoke in a press conference at the Oceti Sakowin Camp, addressing the dangers and the injustices that Energy Transfer Partners is imposing on the Standing Rock Sioux Tribe and all Americans with the development of the Dakota Access Pipeline.
"I've been an environmental attorney for 30 some years and I've been fighting these battles and I know what they are doing is illegal. They are trying to build this pipeline fast so that they don't have to face their day in court. So that they can say it's already built.
'Yeah we trampled on some of the laws but it's already built.'" – Robert Kennedy, Jr.
"We know that pipelines break, they always break. You just have to look at Freeman, SD or Keystone 1, which has 14 spills in its first year. When Dakota Access Pipeline breaks it's going to contaminate 60% of the potable water in South Dakota." – Joye Braun.
"We are standing for justice. We're standing against what Energy Transfer Partners has foisted upon the Standing Rock Sioux and the American Republic…This is a pipeline that cannot be safe…It is inevitable that air, water, and climate pollution will result from this project. Energy transfer partners knows this, that's why they're trying so quickly to circumvent county, state,regional, and national environmental regulations. This is an intentional act to break the law. We know this pipeline is not just illegal or immoral, but completely unnecessary." Michael Brune.
"Energy Transf er Partners used Nationwide Permit 12 to build this pipeline. This permit is used for projects that are less than one acre in size, that's why they didn't have to do a full environmental impact statement. So that's why there are over 300 actions happening today across the country, to demand that a full environmental impact statement be ordered, that all permits be rescinded, but most of all, we demand the project be shut down in its entirety". Kandi Mossett.
Photo Credits: Ayşe Gürsöz
###
Pass share this email with family and friends and if you are able,
Please help support our continued work: