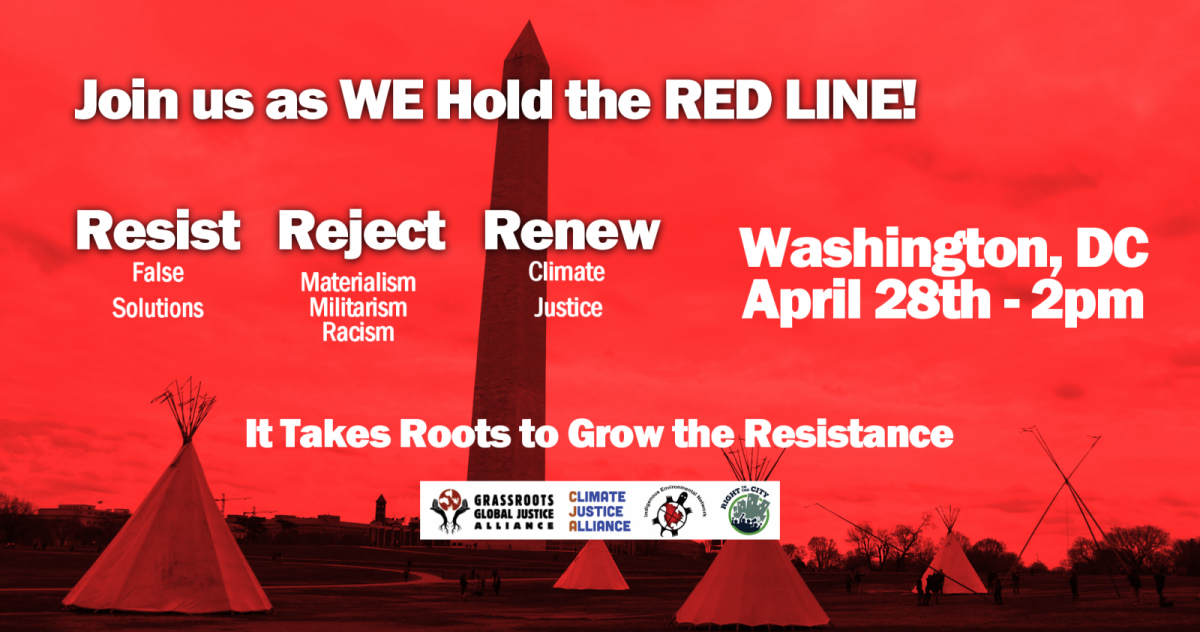 April 28th is the Day to Hold the Red Line!
Will you join us as we hold Mother Earth's Red Line?

The Indigenous Environmental Network is standing on the frontline of Climate Justice with All Nations to denounce the three evils that Martin Luther King called out in his iconic Beyond Vietnam speech 50 years ago, this month. Those are Racism, Materialism, and Militarism.
"I am convinced that if we are to get on the right side of the world revolution, we as a nation must undergo a radical revolution of values. We must rapidly begin, we must rapidly begin the shift from a thing-oriented society to a person-oriented society. When machines and computers, profit motives and property rights, are considered more important than people, the giant triplets of racism, extreme materialism, and militarism are incapable of being conquered." – Dr. King, Beyond Vietnam Speech, 1967
IEN is joining forces with the Movement For Black Lives, The Majority and It Takes Roots to launch Beyond the Moment (BTM) beginning April 4th and culminating at the end of the month on April 28 & 29 in Washington D.C and across the country on May Day.
Our communities are facing unprecedented threats from within our government, that if not stopped, will destroy the very air we breathe and lands that provide the biodiversity that all life depends on.

The Red Line is the ONE Line that Cannot be Crossed.
Resist False Solutions – Reject Materialism–Militarism-Racism – Renew Climate Justice
On April 28th we will form a red line to defend our planet, protect our people & communities.
"We draw a red line through the militarization of the federal budget, and the rising wars at home and abroad, and the "dig, burn, dump" extreme energy extraction economy."
Where? In the streets of Washington DC. Details to come.
When? On April 28th, the day before the March for Climate, Jobs, and Justice, at 2PM
We hold a red line to defend our culture, sovereignty, spirituality that we have always depended on to keep our environment, families, communities in balance for the prosperity and health of the next Seven Generations.
We are joining forces with climate and social rights organizations to build a justice-based transition, a #JustTransition that supports "local, living economies" where communities and workers are in charge. Our demands include:
investment in communities
true sustainability – not false market-based solutions
divestment from militarism and wars
ending the destructive cycle of materialism / capitalism of extreme energy extraction
an end to racism in all its forms
This invitation to participate provides many opportunities for everyone to contribute to Beyond the Moment. Join us as we kick off a month of mass political education, vigils and direct action to deepen our cross-movement collaboration and strategy
Will you hold Mother Earth's Red Line with Indigenous, Black, Brown and
Frontline communities on April 28th?
Add your organization to the list of endorsers here:
ORGANIZATIONAL ENDORSEMENT FORM
Like our Facebook Page we'll be sharing links and always interesting and timely stuff! 🙂
Follow us on Twitter to stay up to date with more information, logistics for Hold the Red Line and the People's Climate March as we work through all the details and get them out to you!
Most of all, Thank you for your continued support as we protect our water, lands, people and Future from the forces of militarism, capitalism/materialism, and racism.
The Indigenous Environmental Network | PO Box 485 | Bemidji, MN 56619 | http://www.ienearth.org/